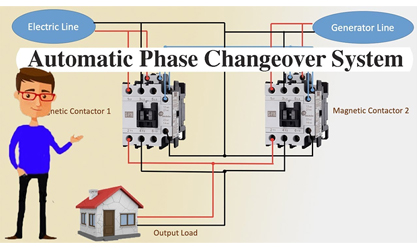 AUTOMATIC PHASE CHANGEOVER SYSTEM TRADERS
Call Connect
VHCPL is well-known for providing a high-quality AUTOMATIC PHASE CHANGEOVER SYSTEM. An automatic phase change-over switch is designed to disconnect the load from its power source and transfer it to a standby source such as a generator or any other local power source such as solar that is installed near our loads in the event of a power outage. One or more relay coils perform the switching process, which prevents power outages. When power is restored, the load is returned to the main supply. The entire process is managed by a network of relays that constantly monitor whether or not the main power supply is available. This eliminates the need for manual operations as well as the possibility of a brief power outage. The proposed Automatic changeover controller can switch three power sources alternately. The automatic transfer switch is intended for use with permanently installed standby generators. The generator will start automatically if there is a power outage. This is particularly useful for buildings that cannot be without power for extended periods of time, such as hospitals or businesses that use high-tech equipment. Sensors in the automatic transfer switch detect changes in the main power supply. Allows for a smooth transition from primary to a secondary sources.
AUTOMATIC PHASE CHANGEOVER SYSTEM TRADERS IN GURGAON
AUTOMATIC PHASE CHANGEOVER SYSTEM TRADERS IN DELHI
AUTOMATIC PHASE CHANGEOVER SYSTEM TRADERS IN DELHI NCR
AUTOMATIC PHASE CHANGEOVER SYSTEM TRADERS IN EAST DELHI
FOR MORE DETAILS PLEASE CONTACT US AT 8383950646.